A look at Sienkiewicz's itinerary, the dates of reaching particular destinations, as well as some of the writer's letters appear to suggest that he was in no rush to arrive in Africa, and a number of vicissitudes seemed set to discourage him from pressing ahead with his plans.
Sienkiewicz sets off from Kraków in the middle of November 1890. He takes his time, and reaches Rome only on December 16, which elicits the following comment from Tyszkiewicz: "At long last, Sienkiewicz has arrived, so the plan starts to come together."[1] One of the writer's numerous episodes of bad luck occurs already on his trip to Rome. As he puts it in a letter to Jadwiga Janczewska:
I arrived this afternoon, testy and tired. Tired, because railcars were uncomfortable, my compartment crowded and cold; testy because, somewhere between Pontebba and Mestre, I lost my little pocketbook with about 200 gold francs, my ticket, baggage reclaim receipt, and – the worst thing of all – the ducat my Mary had given to me.[2]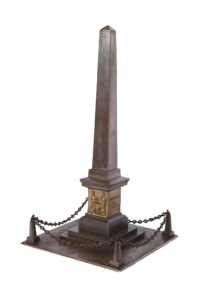 From Rome, our travelers continue on to Naples, take a ship to Ismailia, see the Giza pyramid complex, and arrange to take part in a hunt in the Faiyum Oasis. This is where they run out of luck again, or rather: Sienkiewicz runs out of health. In the words of Tyszkiewicz:
That's what I call bad luck! We were so much looking forward to the trip to Faiyum, to the hunt that we had been preparing for; and here is Sienkiewicz, who has felt under the weather since leaving Cairo, coming down with nasty pharyngitis right there on the train.[3]
The expedition has not yet started for good when Sienkiewicz has to face another unfortunate event:
The French Messageries Maritimes ship that I was going to take down the Red Sea and into the Indian Ocean proved a bitter disappointment. We were told by travel agents that it would call at Suez on January 19, but it actually arrived – and departed – the previous day. […] News of this prank on the part of Messageries Maritimes, or maybe the ship captain himself, put me quite out of my good mood. I could either wait one whole month for the next French ship or take up the offer of other vessels. The latter, however (including the British ones) are slower, of inferior quality, and of a much lower standard.[4]
One could wonder whether the above situation could really be attributed to bad luck – or perhaps to the lack of organization and resourcefulness in the context of realities that were much more challenging than the American ones. Another valid question is: did Sienkiewicz really wish to get to Africa as soon as possible, or was this delay intentional?